I'm so excited about today's post because I am completely obsessed with my P.M. skincare routine and I couldn't wait to share. I honestly look forward to it every evening, it helps me unwind from the day and relax before getting into bed. I like to keep it really simple, it's just 4 easy steps starting with cult-favorite Estée Lauder Advance Night Repair serum. I apply a small amount to my fingertips then pat it into my skin rather than rubbing and tugging at my skin. Next, I use my ring fingers to lightly pat fresh Black Tea Firming and De-Puffing Eye Cream under and around the contour of my eyes. After that, I follow up with the Laneige Water Bank Hydrating Gel to moisturize my skin all over. Once my skin is hydrated and glowing, my last step is applying Bite Beauty Agave+ Nighttime Vegan Lip Therapy to my lips to ensure they are nourished and kissable the next morning. If you want to learn more about each product keep reading below!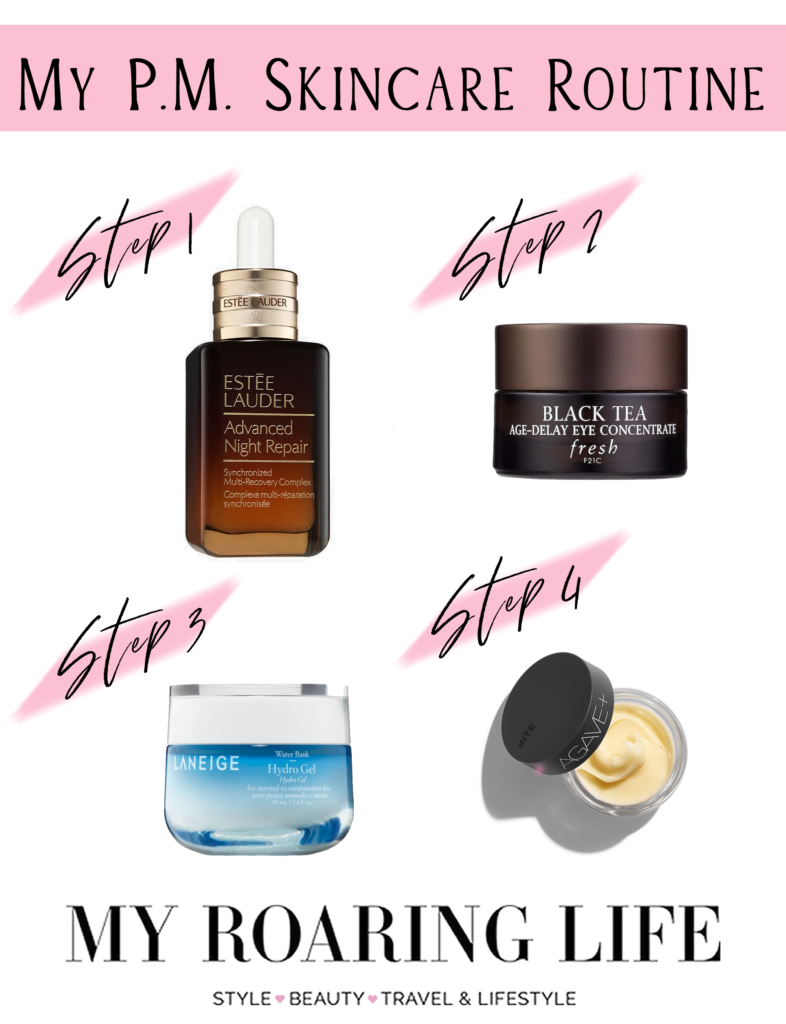 Step 1: Estée Lauder Advanced Night Repair Serum
I'm OBSESSED with Estée Lauder Advanced Night Repair! I've been using it for almost 5 years now and it's seriously the best for a reason, you can see results in just days. My fine lines and wrinkles practically disappeared especially on my forehead, I wake up each morning with bright, youthful glowing skin. The iconic brown bottle is luxurious and their revolutionary new formula is perfect for all skin types but works wonders on my dry, dehydrated skin because hyaluronic acid is one of the main ingredients. Use ANR on clean skin before your moisturizer, apply a drop on each fingertip, rub them together then gently pat into your skin. Pro tip: if you have any leftover serum apply it to the backs of your hands to help prevent aging.
Pro tip: if you have any leftover serum apply it to the backs of your hands to help prevent aging.
Step 2: fresh Black Tea Firming and De-Puffing Eye Cream
Black Tea Firming and De-puffing Eye Cream is the eye cream I didn't know I needed in my skincare routine until I tried it. I recently discover the power of this amazing eye cream and was completely shocked at how it literally does it all. It's beyond hydrating and reduces the look of puffiness, fine lines and dark circles. This is the only eye cream I've ever noticed results from, my under eyes feel drastically softer and my fine lines are practically gone. It's fast absorbing formula is lightweight and perfect to apply under makeup, I use it day and night before my moisturizer. It's definitely on the pricier side but so far it's been 100% worth it. I highly recommend you add this beauty to you skincare routine!
Step 3: Laneige Water Bank Hydrating Gel
Water Bank Hydrating Gel is part of the beloved Laneige Water Bank collection and is only available at Sephora or directly from Laneige. This intensely hydrating gel formula is light weight and cooling on your skin making it perfect for Summer. It gives your skin this insane dewy, glow without looking or feeling greasy, I use it every night to rehydrate my complexion while it calms and soothes my skin. It's the perfect moisturizer for normal, combo or oily skin types because it instantly absorbs for a balanced complexion. The beautiful glass packaging makes it look and feel high end without the expensive price tag. Every night my skin feels refreshed and glowing, I highly suggest you try it too.
Step 4: Bite Beauty Agave+ Nighttime Lip Therapy
Agave+ Nighttime Lip Therapy is a deeply hydrating, rich formula that melts into your lips for moisture all night long. I wake up every morning with soft kissable lips that never feel dry, even in the winter. It's balm to oil consistency leaves your lips hydrated and smooth, for best results once a week I apply it after I've used Agave+ Weekly Lip Scrub. Bite Beauty such an amazing innovative brand, all their products are clean, vegan and cruelty free!