This week I'm sharing my secret to how I get these beautiful voluminous, undone waves and all of the products I use to achieve this look. I wear my hair curled like this almost every day so it's important to use the right tools so I don't damage my hair. I have fallen in love with the T3 Micro Whirl Trio Curling Iron 1″ Barrel. I've had mine for years and it is seriously the best, it heats up in seconds, and has consistent heat throughout the barrel so your help with healthy-looking curls without any heat damage. It comes with three interchangeable barrels, the 1″ Straight Wand Barrel for beautiful undone waves, the 1 ¼" – ¾" tapered barrel for beachy tousled waves, and the 1 ½" straight wand barrel soft, loose waves. I also purchased the 1.25″ Clip Barrel for polished waves but today I'm using the 1″ straight barrel to achieve these loose curls.
Keep scrolling for my step-by-step guide…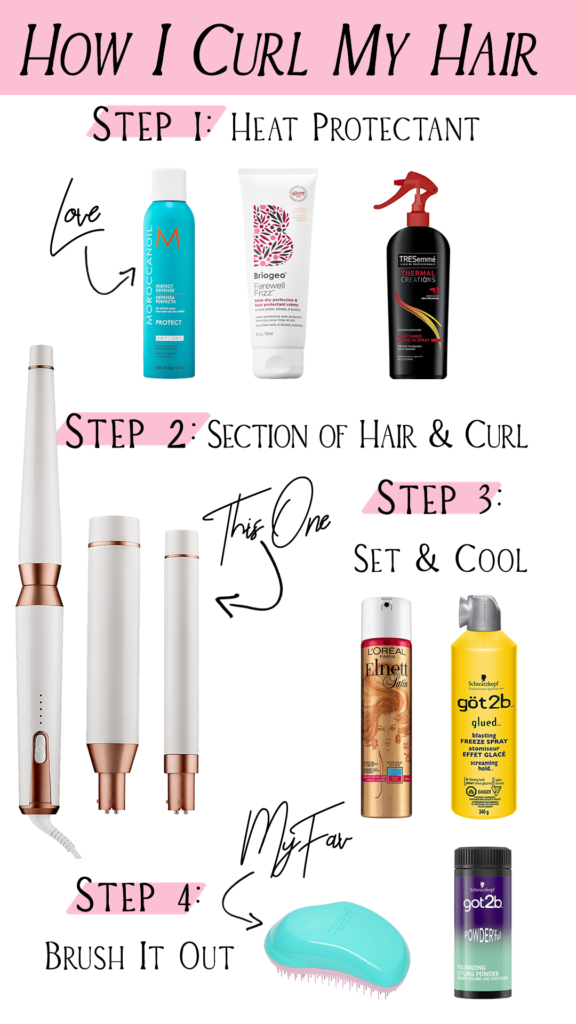 + STEP 1: HEAT PROTECTANT
My first step is always a heat protectant! If my hair is freshly washed, before blowdrying I'll apply Briogeo Farewell Frizz Blow Dry Perfection & Heat Protectant Creme on my damp hair from the root to tip, then blow-dry to remove moisture. If my hair is already dry I like to use Moroccanoil Perfect Defense Heat Protectant before styling my hair with any heat. A great drugstore option is TRESemmé Thermal Creations Heat Tamer Spray, you can use it on wet or dry hair and is less than $10.
+ STEP 2: STYLE
After I've applied a heat protectant, I'll brush through my hair, section it off and clip up the top half. I use the T3micro 1″ barrel on the lowest heat setting and wrap small sections of hair around the barrel making sure the front section is curled away from my face and then hold for 5-12 seconds. I repeat until all my hair is curled, sometimes for more volume and texture, I alternate the direction of the curls but again always keep the front pieces going away from your face.
Pro Tip: hold the curl for a few seconds while it cools to help it set before releasing it and moving on to the next sections.
+ STEP 3: SET & COOL
Once all of my hair is curled I spray it with L'Oreal Elnett Satin Volume Extra Strong Hold Hairspray by and let it set/cool. If I'm going to an event or a special occasion I'll use Got2B Glued Limited Edition Blasting Freeze for more hold. Today I'm using the L'oréal hair spray then letting them set and cool. The key is to not brush out your curls right away, this will help them set and your curls last longer.
+ STEP 4: BRUSH IT OUT
Finally, before I brush out my curls I sprinkle a little
got2b POWDER'ful Volumizing Styling Powder
in my roots for fuller more voluminous hair! I flip my hair over and
There you have it babes, the 4 easy steps I use to curl my everyday. If you're more of a visual learner like myself be sure to check on my Instagram where I shared a Reel showing you exactly how to get this look!